Forex Peace Army Highlights Frauds in the "Scam of the Year"
PR Newswire
LOS ANGELES, May 8, 2013
LOS ANGELES, May 8, 2013 /PRNewswire/ — The ForexPeaceArmy.com, a website that posts reviews of Forex products and brokers, today announced they will host their annual "Forex Scam of the Year" in which readers can vote for the worst Forex frauds nominated by their readers and documented by their staff.
ForexPeaceArmy.com staff listed four brokers and four non-brokers based on evidence provided by their readers in the Forex review system.  When possible the company contacted the companies in question to verify information and ask for their side of the story. The list is located at http://www.forexpeacearmy.com/forex-forum/forex-scams-year/
The scams include possible Ponzi schemes, companies that wouldn't let customers withdraw money and trades that were invalidated.
"The companies listed are based on available evidence provided to us," said Bill King, Manager of the Forums and Reviews sections of ForexPeaceArmy.com
Voting ends on June 5, 2013. Results on the company website are updated as votes come in, so the results will be known as soon as the poll ends.
"The unregulated and highly profitable Forex market is extremely attractive, not only for us as traders, but also for those who are best defined by the word scam," he said.
"One way to avoid the fraud du jour is not to be fooled by professionally designed web pitch pages. Read the reviews of the Forex services left by other traders carefully and share your opinion about companies you used with the Forex Peace Army traders community. Together we can separate the good guys from the bad ones," King said.
The company tries to help people who have been scammed.
"If you become the victim of a Forex scam, the Forex Peace Army will do everything in its power to help you to get your money back absolutely free," he said. "We aren't a team of the lawyers; we are a community of tens of thousands of traders ready to offer the help to our fellow traders in need. Our team of investigators carefully examines the case and tries to resolve the issue. In general, most companies would decide to come to a reasonable solution when faced with a legitimate complaint in such a public web site combined with solid evidence."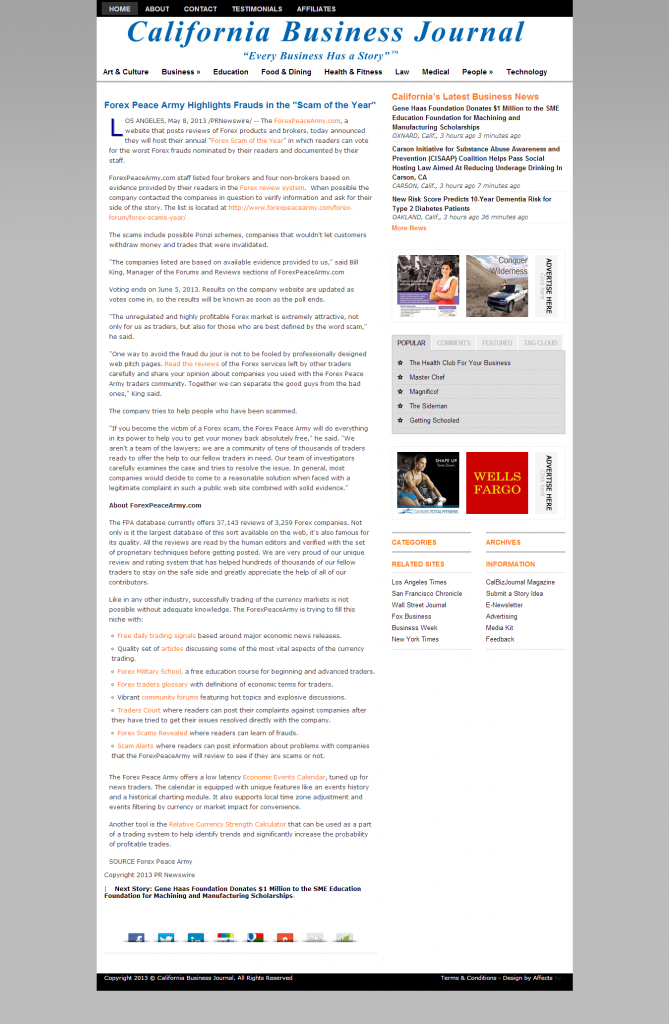 About ForexPeaceArmy.com
The FPA database currently offers 37,143 reviews of 3,259 Forex companies. Not only is it the largest database of this sort available on the web, it's also famous for its quality. All the reviews are read by the human editors and verified with the set of proprietary techniques before getting posted. We are very proud of our unique review and rating system that has helped hundreds of thousands of our fellow traders to stay on the safe side and greatly appreciate the help of all of our contributors.
Like in any other industry, successfully trading of the currency markets is not possible without adequate knowledge. The ForexPeaceArmy is trying to fill this niche with:
The Forex Peace Army offers a low latency Economic Events Calendar, tuned up for news traders. The calendar is equipped with unique features like an events history and a historical charting module. It also supports local time zone adjustment and events filtering by currency or market impact for convenience.
Another tool is the Relative Currency Strength Calculator that can be used as a part of a trading system to help identify trends and significantly increase the probability of profitable trades.
SOURCE Forex Peace Army