Dmitri Chavkerov Says Tithing Is Fundamental to Success in Forex Trading
Press Release: ForexPeaceArmy.com – Tue, Jul 23, 2013 8:35 AM EDT
NORTH PORT, Fla., July 23, 2013 /PRNewswire/ — While many trading systems use computers to help improve results, Dmitri Chavkerov, president of the ForexPeaceArmy.com, says tithing is the foundation upon which all success in trading is based.
"Most houses have foundations, walls, floors and a roof. The walls and floor of my forex structure are money management and trading psychology. The roof is various trading strategies. However, the foundation is tithing – giving 10 percent of my income to charity," said Dmitri Chavkerov, who used to donate at least 10% of his gross income before he became a millionaire, and who started to donate between 50% to 100% of his net income after becoming a millionaire
This thinking is based on spiritual laws, psychological principles and the advice of successful authors, entrepreneurs and investors, he said.
"Master Choa Kok Sui was a chemical engineer, and before becoming a spiritual leader, he was a very successful and very wealthy businessman. When I asked him during one dinner: 'I wish to become a millionaire by the age of 25, please tell me exactly what I need to do.' He told me: 'Donate 10% of your income, save 30% of your income, and practice meditation on prosperity every day for one year, and you will certainly become a millionaire by the age of 30.' He also said that tithing or giving 10% of your income to charity is the single and most important law of prosperity. Those who learn this law quickly and start practicing it, will become wealthy very quickly," said Dmitri Chavkerov.
"A branch of modern psychology called environmental psychology came to a simple conclusion that every single thing in our environment has a tendency to program our subconscious mind," he said.
"You are programmed by nature to give regularly and unconditionally. If you don't give regularly and unconditionally, you are living against your own beliefs, and your subconscious will sabotage you. When you see a nearly-perfect trading opportunity, your subconscious will tell you, 'You don't deserve this trade, because you are one selfish and greedy bastard,' and you will get scared and not enter the trade," said Dmitri Chavkerov.
"If you go against nature, you'll be in a state of disharmony. You may work your butt off and accumulate lots of wealth, but your health will go, or your family will go," he said.
"If you tithe, your life will start becoming more harmonious. It will spread to your ability to make money, but it will also spread to all other areas of your life," said Dmitri Chavkerov.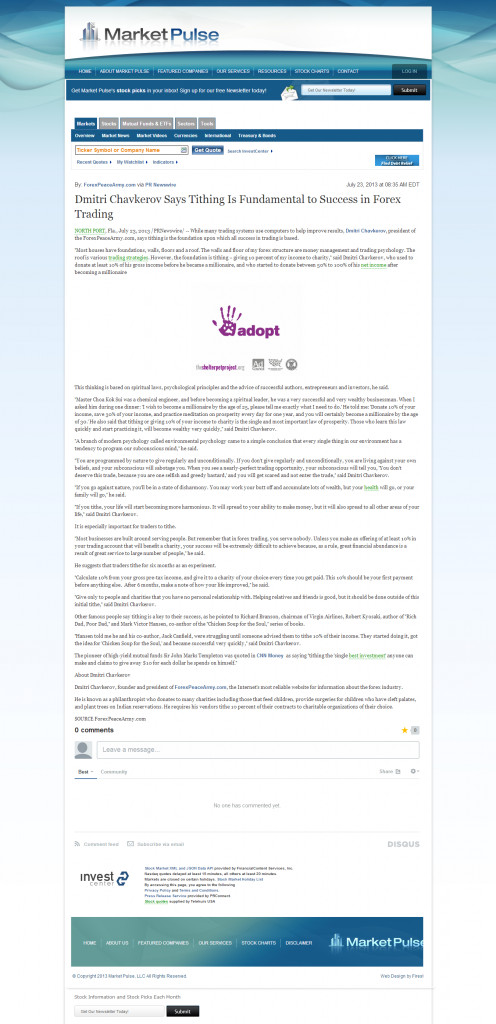 It is especially important for traders to tithe.
"Most businesses are built around serving people. But remember that in forex trading, you serve nobody. Unless you make an offering of at least 10% in your trading account that will benefit a charity, your success will be extremely difficult to achieve because, as a rule, great financial abundance is a result of great service to large number of people," he said.
He suggests that traders tithe for six months as an experiment.
"Calculate 10% from your gross pre-tax income, and give it to a charity of your choice every time you get paid. This 10% should be your first payment before anything else.  After 6 months, make a note of how your life improved," he said.
"Give only to people and charities that you have no personal relationship with. Helping relatives and friends is good, but it should be done outside of this initial tithe," said Dmitri Chavkerov.
Other famous people say tithing is a key to their success, as he pointed to Richard Branson, chairman of Virgin Airlines, Robert Kyosaki, author of "Rich Dad, Poor Dad," and Mark Victor Hansen, co-author of the "Chicken Soup for the Soul," series of books.
"Hansen told me he and his co-author, Jack Canfield, were struggling until someone advised them to tithe 10% of their income. They started doing it, got the idea for 'Chicken Soup for the Soul,' and became successful very quickly," said Dmitri Chavkerov.
The pioneer of high-yield mutual funds Sir John Marks Templeton was quoted in CNN Money  as saying "tithing the 'single best investment' anyone can make and claims to give away $10 for each dollar he spends on himself."
About Dmitri Chavkerov
Dmitri Chavkerov, founder and president of ForexPeaceArmy.com, the Internet's most reliable website for information about the forex industry.
He is known as a philanthropist who donates to many charities including those that feed children, provide surgeries for children who have cleft palates, and plant trees on Indian reservations. He requires his vendors tithe 10 percent of their contracts to charitable organizations of their choice.