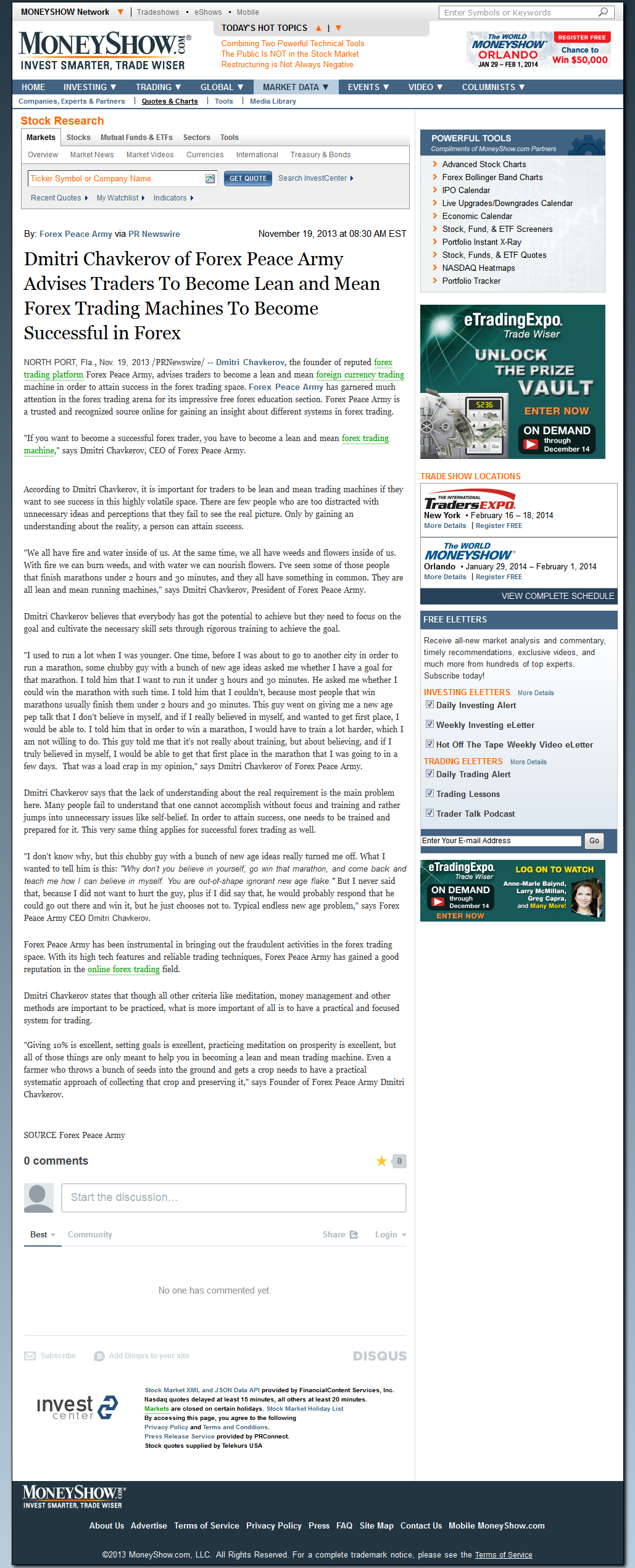 Dmitri Chavkerov of Forex Peace Army Advises Traders To Become Lean and Mean Forex Trading Machines To Become Successful in Forex
NORTH PORT, Fla., Nov. 19, 2013 /PRNewswire/ — Dmitri Chavkerov, the founder of reputed forex trading platform Forex Peace Army, advises traders to become a lean and mean foreign currency trading machine in order to attain success in the forex trading space. Forex Peace Army has garnered much attention in the forex trading arena for its impressive free forex education section. Forex Peace Army is a trusted and recognized source online for gaining an insight about different systems in forex trading.
"If you want to become a successful forex trader, you have to become a lean and mean forex trading machine," says Dmitri Chavkerov, CEO of Forex Peace Army.
According to Dmitri Chavkerov, it is important for traders to be lean and mean trading machines if they want to see success in this highly volatile space. There are few people who are too distracted with unnecessary ideas and perceptions that they fail to see the real picture. Only by gaining an understanding about the reality, a person can attain success.
"We all have fire and water inside of us. At the same time, we all have weeds and flowers inside of us. With fire we can burn weeds, and with water we can nourish flowers. I've seen some of those people that finish marathons under 2 hours and 30 minutes, and they all have something in common. They are all lean and mean running machines," says Dmitri Chavkerov, President of Forex Peace Army.

Dmitri Chavkerov believes that everybody has got the potential to achieve but they need to focus on the goal and cultivate the necessary skill sets through rigorous training to achieve the goal.
"I used to run a lot when I was younger. One time, before I was about to go to another city in order to run a marathon, some chubby guy with a bunch of new age ideas asked me whether I have a goal for that marathon. I told him that I want to run it under 3 hours and 30 minutes. He asked me whether I could win the marathon with such time. I told him that I couldn't, because most people that win marathons usually finish them under 2 hours and 30 minutes. This guy went on giving me a new age pep talk that I don't believe in myself, and if I really believed in myself, and wanted to get first place, I would be able to. I told him that in order to win a marathon, I would have to train a lot harder, which I am not willing to do. This guy told me that it's not really about training, but about believing, and if I truly believed in myself, I would be able to get that first place in the marathon that I was going to in a few days.  That was a load crap in my opinion," says Dmitri Chavkerov of Forex Peace Army.
Dmitri Chavkerov says that the lack of understanding about the real requirement is the main problem here. Many people fail to understand that one cannot accomplish without focus and training and rather jumps into unnecessary issues like self-belief. In order to attain success, one needs to be trained and prepared for it. This very same thing applies for successful forex trading as well.
"I don't know why, but this chubby guy with a bunch of new age ideas really turned me off. What I wanted to tell him is this: "Why don't you believe in yourself, go win that marathon, and come back and teach me how I can believe in myself. You are out-of-shape ignorant new age flake." But I never said that, because I did not want to hurt the guy, plus if I did say that, he would probably respond that he could go out there and win it, but he just chooses not to. Typical endless new age problem," says Forex Peace Army CEO Dmitri Chavkerov.
Forex Peace Army has been instrumental in bringing out the fraudulent activities in the forex trading space. With its high tech features and reliable trading techniques, Forex Peace Army has gained a good reputation in the online forex trading field.
Dmitri Chavkerov states that though all other criteria like meditation, money management and other methods are important to be practiced, what is more important of all is to have a practical and focused system for trading.
"Giving 10% is excellent, setting goals is excellent, practicing meditation on prosperity is excellent, but all of those things are only meant to help you in becoming a lean and mean trading machine. Even a farmer who throws a bunch of seeds into the ground and gets a crop needs to have a practical systematic approach of collecting that crop and preserving it," says Founder of Forex Peace Army Dmitri Chavkerov.
SOURCE: Forex Peace Army